The feeling of freedom as you glide effortlessly through beautiful mountain scenery might be something you've been dreaming of, but are your feet going to be attached to skis or a snowboard? Although you can enjoy both sports in the same environment, they are quite different disciplines and each has a different set of challenges.
We provide private transfers and shared transfers for our customers to access some of the most beautiful and popular skiing and snowboarding destinations in Europe. But Skiing vs snowboarding, which will you choose?
There are lots of things to consider when making a decision on snowboarding vs skiing, and we've put together a handy article to give you some information about each sport to help make that choice easier. We'll let you into a secret though, you can always try both, it's a brilliant excuse to stay on the slopes a little bit longer too!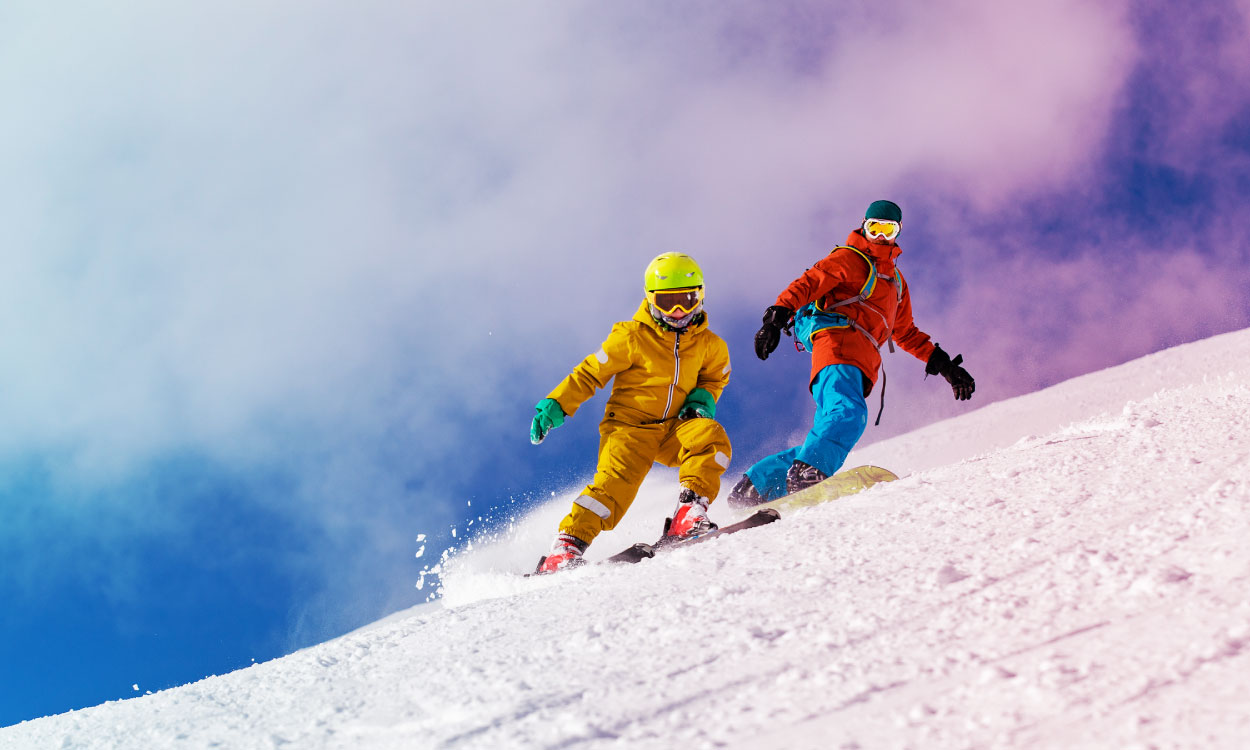 Skiing vs snowboarding for beginners
Anyone can try skiing or snowboarding, and if you aren't sure which you might prefer it's a good idea to have a go at both if you have time. There are some key differences you'll find when comparing skiing vs snowboarding (for beginners in particular) but there are also similarities in the skills that will help you to succeed. First, let's look at some of the things to consider in relation to learning both sports.
Having a good sense of balance and coordination will help you react quickly when your board or skis move. If you've ever tried and been good at rollerblading, juggling or ice skating you'll have a small advantage when learning to ski or snowboard.
Strength and fitness levels
Core strength is vital, it will help you to stay upright when learning to snowboard or ski. If you don't have a strong core already, you might spend a little less time on your feet when you first start learning. Falling over is all part of the fun though, and when you are relaxing after a day on the slopes, you'll feel like you've had a real work out!
You can learn to ski or snowboard at any age. Younger beginners tend to pick up skills quicker, but the most important thing is to have determination and a positive attitude to learning.
Attitude to fear and risk
Speaking of attitude, you'll need to be happy to just go for it and commit to heading downhill at some point. The more nervous you are the more tense your body will be, which will make it harder to progress. If you are worried about falling over, you'll probably do it more often!
What's easier, skiing or snowboarding?
It very much depends on the person, especially if you have experience of other similar activities and a basic level of strength and fitness. In general, it tends to be easier to learn the basics of skiing because the forward-facing position and using your legs independently is more intuitive, like walking.
First time snowboarders spend a little longer learning to stay standing up, and the first few days often feel like more of a struggle. However, once you've got to grips with the basics, progression happens faster for new snowboarders whereas skiers can take a while to perfect some of the more advanced skills.
If you are new to the slopes, one of the things lots of people find daunting is learning how to use ski lifts. For skiers, you'll keep your skis fastened to your feet but will need to carry your poles while travelling on the lift. When you reach the top, you'll be able to ski away from the lift, using your poles if the ground is flat.
Snowboarders find lifts a little less comfortable, as one foot will need to be unclipped from your board to travel. To ride away from the lift at the top you'll need to push yourself with one foot off the board.
For either sport, make sure you rest and enjoy the evening and take advantage of the après ski facilities to refuel for the next day. Once you are off the slopes, snowboarders find it easier to get around the resort as they just need to carry their board, whereas skiers will have long skis and poles to juggle. Snowboarding boots are also more comfortable to walk in than ski boots, which again makes it a little easier to wander around.
What's better: skiing or snowboarding?
There is so much fun to be had on the slopes when skiing or snowboarding, however most people tend to start having fun sooner with skiing, as it is easier to get started. Don't let that put you off snowboarding though, you'll just have to stick with it a little longer before the basic skills click into place, then you'll progress very quickly.
People often find activities more enjoyable when they feel more confident and competent, but don't let mistakes get you down, they usually help you learn faster. Something else to consider is whether you are travelling with other people who can help share their experience of skiing or snowboarding. Both sports take place on the same slopes, in the same glorious surroundings, so whatever you choose you'll be able to spend time as a group enjoying the mountain.
The pros and cons of skiing and snowboarding are quite subjective, it all depends on what you enjoy and how much experience you have.
Using both legs independently and facing forward feels like an intuitive way to travel. It's easier to get to grips with the basics of skiing, however having two skis and two poles means you'll have more equipment to carry.
Easy to pick up the basics

More intuitive position with legs facing forwards

Can easily see ahead of you and around

Getting on and off lifts is easier

Easy to propel yourself on flat ground using your ski poles
Easy to trip over your skis as a beginner

Harder to learn to stop

Advanced skills can take longer to develop

Carrying poles and skis takes coordination

Leg injuries are more common for skiers
Snowboarding is all about heels and toes, it takes patience to master the basics as it's not as intuitive to be facing sideways. Be prepared to fall often in your first few days as learning how to balance and turn is a little trickier.
Easy to progress once you have mastered the basics

Exploring off piste is possible, even as a beginner

Less to carry (no poles)

Snowboarding boots are usually more comfortable than ski boots

Easy to stop even if you have no skills – just sit down!
Takes longer to perfect the basic skills – so the first few days can be a bit demoralising

Harder to get on and off lifts

More difficult to make sharp turns

Need to unbind one foot and push yourself along on flat ground

Upper body and tailbone injuries are more common for snowboarders
Snowboarding vs skiing - Clothing
Now, let's talk about wardrobe! Do you really need different clothing for snowboarding vs skiing? Traditionally, skiing clothes are more form fitting and aerodynamic, whereas snowboarding clothing is influenced by skateboarding and surfing and tend to be looser. In truth, you can wear most snowboarding or skiing clothing to do either sport. Hiring equipment and clothing is also a great option when you are starting out.
Beginners don't need to worry about buying or hiring different clothes for each discipline, aside from boots everything can be worn for both skiing and snowboarding.
Which should I choose – Skiing or snowboarding?
Have you always dreamed of skiing down a mountain? Then try it! Feel like snowboarding would be fun? Give it a go! It's important for beginners to go with that they feel most excited about, if you have enough time then try both. Professional lessons can help you master the basics, and perseverance and determination will help ensure you progress.
Choose Alpine Fleet to get you there
Whether you choose skiing or snowboarding, Alpine Fleet can help you get closer to your accommodation and onto the slopes as soon as possible. The more time you have at the resort, the more time you have available to try both sports.
With private transfers and shared transfers available, we run high-frequency services to suit your flight times. We offer unbeatable value, and our airport representatives will meet you inside the terminal, taking you to more flexible drop-off points across all resorts.
Contact us today to book your private transfers or shared transfers, and if it's your first time on the slopes why not try both skiing and snowboarding – let us know which you prefer!