If you are planning to go skiing for the first time, you might be overwhelmed by all of the information available on what to do, how to prepare, and what equipment you should take with you. Learning a new skill takes practice but you'll soon be able to enjoy the slopes, and a little bit of pre-trip preparation can help to make the process easier.
From increasing your fitness and finding the right kit to understanding the basics of how to put on your boots and skis, we've covered a few useful tips in this article for beginners.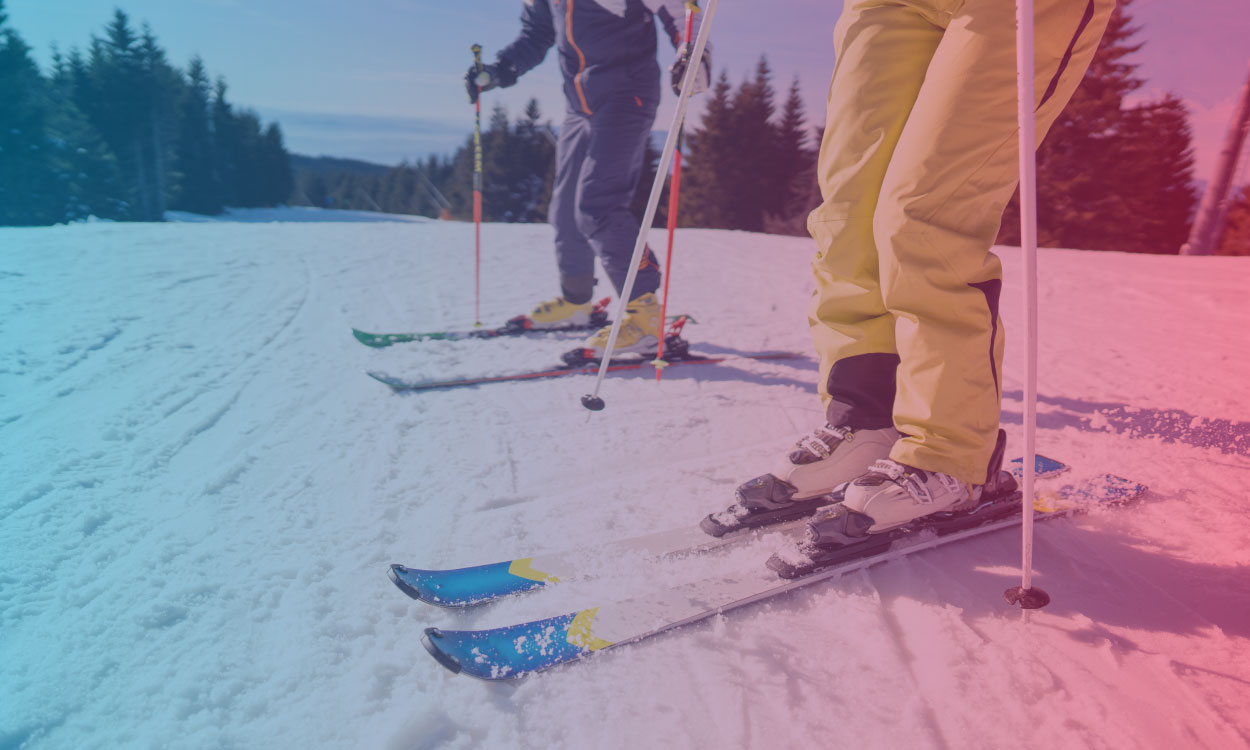 Getting there - Ski transfers
We operate ski transfers from the major airports, with private transfers and shared transfers available to take you to your accommodation as quickly as possible. While you travel you can chat about your plans and look forward to arriving refreshed and ready to hit the slopes. Don't worry about the mountain roads, just relax and enjoy the view as our experienced drivers get you safely to your resort.
For beginners, equipment hire will give you a chance to try the sport before spending a significant amount of money on your first trip. The added benefit of this is that if you do enjoy skiing, you can try out some different types of equipment and see which suits you best before you commit to buying your own.
We have exclusive deals available from our partners at SkiSet, where ski beginners can hire all of the equipment they need, click here to use our discount. Hiring equipment is also popular with experienced skiers who are looking to try out new kit. 
Our customers particularly enjoy La Plagne and Avoriaz for family-friendly holidays, as there are plenty of easy slopes, snow parks, and activities to keep the kids entertained. Morzine is also great for families as there are plenty of ski schools and childcare options for all ages, as well as a relaxed and welcoming atmosphere in the low-altitude village. Check our transfer times from the nearest airports, as shorter journeys will usually be more manageable for families, especially those with young children.
When considering locations, you might prefer a resort in a peaceful village or an area away from the livelier après ski attractions, which can stay open until the early hours of the morning. Equally, it's always useful to be close to the hustle and bustle if you have older children and teenagers who might enjoy some of the evening entertainment on offer.
Courchevel is an excellent location for families, whether you are looking for luxury relaxation, world-class service, and Michelin Star dining, or a delicious takeaway to enjoy on the sofa together after a long day. The town also has plenty of shops, and the slopes are suitable for skiers of all ages and abilities.
Finding accommodation in the right location can make a huge difference to your family ski holiday. Ski-in Ski-out options will mean you avoid any delays getting to the slopes and the kids can take regular breaks whenever they need to. Many families prioritise resorts with childcare facilities and ski schools so the grown-ups can have a little freedom to take on some of the more challenging terrain, while the kids are having fun elsewhere.
Hotels offer a variety of packages, including all-inclusive options so you don't need to worry about cooking meals for everyone. Self-catering accommodation is also particularly popular with families on a budget or those needing more flexibility around mealtimes. Families looking for a luxurious home-from-home often book catered chalets, with plenty of space to relax, excellent facilities, and chef-cooked meals so the grown-ups can have some well-earned time off!
When it comes to winter sports, the correct clothing will help you stay as comfortable as possible in the snow. Weather can change very quickly in the mountains and temperatures can vary massively between the top and the bottom of the slopes. The best way to prepare for all temperatures is to wear layers.
Start with a sweat-wicking base layer, the aim of which is to keep you dry by drawing sweat away from your body without absorbing it and becoming saturated. Wool and bamboo are the most suitable natural fibres, with Merino Wool being the most expensive and luxurious option. The benefit of natural fibres is you can usually wear them for longer before they need a wash, so although they are more expensive the same set could be worn for several days if needed.
Polyester and polypropylene are man-made fibres with superior wicking qualities, keeping you dry for as long as possible. You might need to wash them more often, but they are usually less expensive so you could have multiple sets for your holiday.
A mid layer of clothing will provide you with warmth and help to regulate your body temperature. Fleeces, wool jumpers, and insulated jackets are popular mid layer options, the more layers you wear the more flexibility you have to adapt to changing temperatures. This is particularly important if you are planning to be a long way from shelter on a cross-country skiing adventure.
Outer layers should be waterproof, breathable, and windproof to protect you from the elements. You'll need a jacket, and trousers that are comfortable to move in freely without being restrictive or too large. There are lots of designs available from different brands at a huge range of price points, some supermarkets have also started selling competitively priced ski wear.
A helmet is a vital piece of safety equipment, make sure you have one that fits properly whether you buy your own or hire one at the ski resort. You'll also want some goggles, ideally with UV protection in the lenses to protect your eyes from cold winds and bright sunshine.
You lose most heat through your head and torso, so taking a decent hat with you will help to keep you warm. Fashionable hats are quite popular and can be a fun addition to an après ski outfit to express your personality.
Good quality socks and gloves are probably the most important parts of your kit, in terms of keeping ski beginners comfortable. Socks with extra shin padding, wicking layers, and breathable fabrics will keep your feet warm, dry, and protected. Take several balaclavas, neck gaiters or buffs to protect your face and neck, these will need washing frequently so having multiple options will ensure you've always got a clean one available.
As well as the right clothing and accessories, sunscreen should be worn on any areas of your skin that will be exposed to the elements, even if they will be covered some of the time. Your face, neck and hairline can catch the sun easily, and no one wants the stereotypical 'goggle tan'! Lip balm or chapstick will also be beneficial, especially if it also contains a form of sunscreen.
There are a few things you can do to prepare for skiing as a beginner, to make the experience more enjoyable. From learning a few simple skills and increasing your level of general fitness to making sure you know how to read a ski map and find runs suitable for beginners.
Increasing your general level of fitness before your trip will help to ensure you enjoy skiing as much as possible. Cardiovascular fitness will increase your stamina so you can spend more time on the slopes. Working on your flexibility with stretching and yoga will make skiing feel more comfortable, and strength training to build up your muscles in your quads and calves can help to prevent injury.
Ski beginners often benefit from gaining confidence on a dry ski slope before their holiday to learn a few basics, including how to turn and stop. The good news is that it's easier to ski on real snow than on dry slopes, so don't be disheartened if it's harder than it looks when you have your practice lessons.
Another good thing about practising before your trip is that you can take note of what size skis you learned with, so you can hire the same size at your ski resort.
The less physical side of preparing for a beginners' skiing holiday is familiarising yourself with the symbols used on piste maps. Ski runs are colour coded according to how difficult they are, with green being the easiest, blue for intermediate, and red for the advanced slopes. Black runs are usually for experts only.
Many new skiers benefit from travelling with more experienced and confident friends or family, who can give them a few pointers and help them get to grips with the basics on the slopes. Almost all resorts have ski schools where you can learn the basics as part of a group, or hire your own private tutor for more intensive one-on-one lessons.
The basics for ski beginners
During your first few days on the slopes, you'll start to familiarise yourself with the basics. This can be quite overwhelming at first, but you'll soon get the hang of it. Here are some of our top tips for beginners.
Putting on your ski boots
It's just putting on boots, right? Don't worry, lots of people struggle with how to put on their ski boots, not just beginners! Firstly, start by sitting down. Trying to put your boots on whilst standing up is just adding an unnecessary level of difficulty to the process!
Make sure you are wearing good quality socks, and blister protection if you need it. Getting blisters on the first day of your holiday would be a real shame.

Slide your foot into the boot, moving the cuff and liner as much as you need to get your foot inside comfortably.

Tap your heel on the ground to make sure your foot is located firmly at the heel of the boot and then reposition the cuff and liner.

Buckle your boots, starting at the toe first. Don't worry about tightening the buckles yet.

Tighten the strap around your shin and then adjust the top two buckles so the boot cuff fits snugly to your leg. Then fasten the remaining buckles.

When your boots are fastened your toes should move away from the front of the boots as you bend your knees. It feels strange at first, but your boots shouldn't be painful. If they are, spend some time adjusting your socks and boots before you hit the slopes.
The rigid shell of ski boots can make walking feel a bit odd. Walking by placing your heel down and then rolling to your toe as your step forward will make the process easier. If you are planning to be walking around without your skis on for a while then you might want to undo some buckles for comfort.
Each ski has a tip at the front and a tail at the back, between the tip and the tail are the bindings that you'll use to connect your skis to your boots. The bindings have a heel piece and a toe piece. Each ski also has a brake, which stops it from sliding away when placed on the snow. Stay standing up to put on your skis, you'll be stepping onto them.
Place your skis side by side on the snow, facing across the hill at 90 degrees, not down the slope.

Use your poles to balance as you step into the downhill ski first, making sure there is no snow stuck to your boot.

Slide the toe of your boot underneath the toe piece, then line your heel up with the heel piece and press your foot down into the binding. The binding with then snap onto your boot.

Repeat with the other foot in the uphill ski.

To remove your skis, use your ski pole to press the release lever as you lift your heel.

The boots and bindings used in skiing are designed to release quickly if you fall, which helps to prevent injury.
Is skiing or snowboarding easier for beginners?
could always have a go at another winter sport during your trip. People often wonder if skiing or snowboarding is easier for beginners, you can read our article "Skiing vs Snowboarding" to find out more.
Enjoy your first skiing experience
Remember, everyone on the slopes was a beginner once, so don't feel disheartened and keep at it, even when it feels difficult. Once you've mastered the basics you can start to develop more advanced skills, allowing you to explore the mountain and tackle more challenging terrain.
There are so many beautiful resorts to enjoy, and we provide private transfers and shared transfers to some of the most popular destinations, so you can enjoy as much time on the slopes as possible.