Knowing what to wear skiing will give you the best chance of enjoying a safe and comfortable skiing holiday. Mountain weather is notoriously changeable, with temperatures varying hugely depending on the altitude of your resort and your location on the mountain. A sunny day at the bottom of the slopes might be very different on an exposed mountainside.
We collect our customers from popular airports and take them safely to their resorts. Our private transfers and shared transfers take you to Europe's premier destinations, so whether you are visiting Chamonix or Morzine, Courchevel or Les Gets (and many more), we can take care of the logistics so you can relax and enjoy the journey.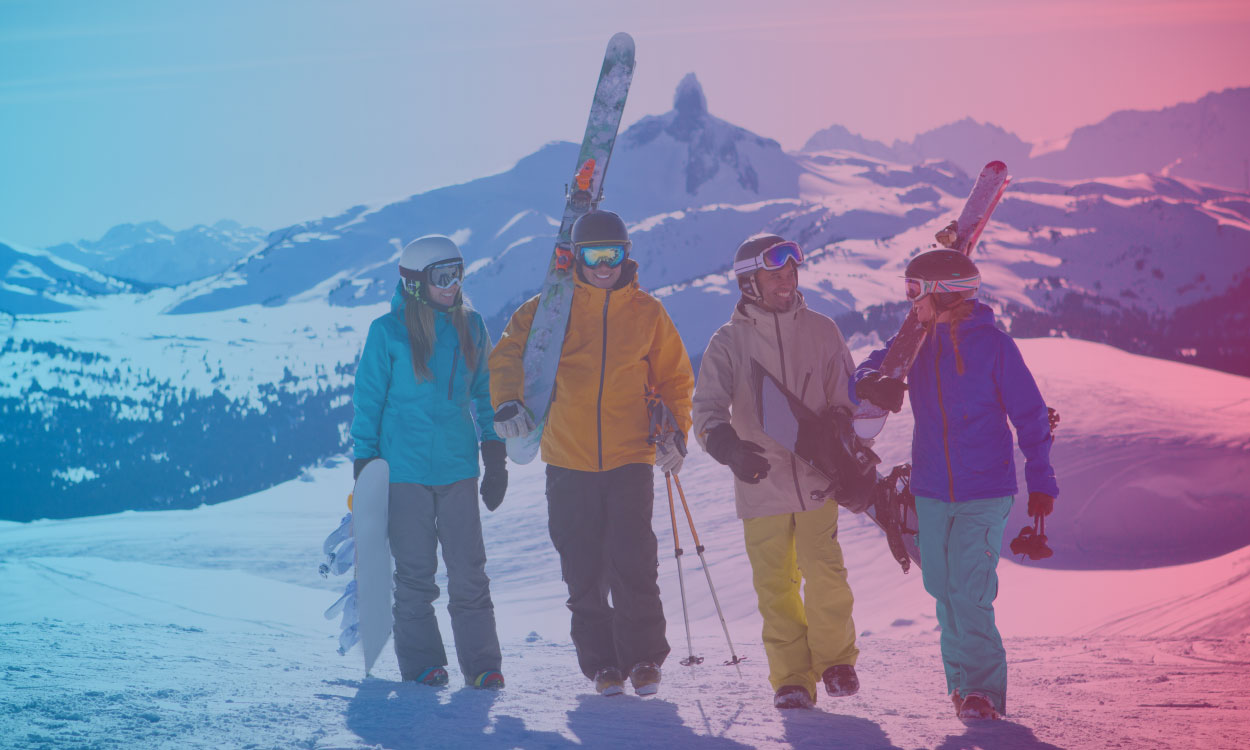 Layers to wear for skiing
Let's start with the basics. Layers of clothing are the best way to prepare for the different temperatures and conditions you might encounter throughout the day. You'll need a base layer, mid layer, and outer layer as part of your clothing for skiing. These layers provide you with the best insulation from the cold and will help keep the sweat away from your skin so you stay dry.
The base layers of your skiing clothing help to keep you dry by wicking sweat away from your skin. Importantly, it needs to do this without absorbing it and feeling wet. You'll need a base layer for your top and bottom half.
Base layers can be made from natural or manmade fibres, luxurious merino wool is usually the most expensive option. Natural fibres like bamboo and wool can be worn for longer, often multiple times until they need to be washed. Manmade fibres including polyester and polypropylene will keep you dry for a long time due to their brilliant sweat-wicking properties; they are often cheaper to buy, but you'll need a few sets as they need washing more often.
When planning what to wear for skiing, the mid-layers will be the easiest items to find in your existing wardrobe. Whether you choose a wool jumper, a fleece or an insulated technical jacket, this layer is designed to keep you warm and regulate the temperature of your body. To ensure you have a mid-layer on your lower half, you can also wear cotton leggings over your base layers.
For longer cross-country trips, you'll benefit from having extra warmth on the more exposed parts of your route. Some ski jackets and trousers have an in-built or removable mid-layer.
Protecting yourself from the elements is vital when skiing, so outer layers are incredibly important. When it comes to fashion on the slopes, your outer layers are also where you can combine function and practicality with a splash of style. Regardless of the colour or design, you'll want to ensure your jacket and trousers are windproof and breathable. If you plan to ski in all weather, full waterproofing will be handy too.
Jacket
Ski clothing has advanced dramatically, and a good quality jacket will last you several years. Water and wind resistance, a hood and decent insulation will usually come as standard, the addition of inner cuffs and a snow skirt will help to keep the snow on the mountain when you fall over (as opposed to inside your clothes!). Jackets often have additional features such as adjustable zippered vents under the arms. Look out for easily accessible pockets to keep lift passes and other essentials.
Trousers/salopettes
Trousers for skiing are also called salopettes, these should be warm and waterproof, to keep you dry in all weathers. This is especially important when you are learning, as you might spend a little more time sitting on the snow until you master some of the basics! Integrated gaiters will help to stop powder snow from getting into your ski boots, and zippered thigh vents can provide some welcome air flow in warmer weather.
What to wear skiing – Accessories
Once you've got your layers of clothing sorted, you'll need to think about accessories. Although they might only be a small part of what to wear for skiing, accessories can make a big difference to your safety and comfort.
Protecting your head with a helmet is now a requirement at some resorts. You can either buy your own helmet or they can be hired with your skiing equipment. It is important to adjust your helmet to ensure a good fit. You want the helmet to be snug enough to stay in place and provide maximum protection.
Good quality goggles protect your eyes from UV rays as well as the wind and snow. You can also purchase goggles with different colour lenses depending on the snow conditions and climate you are skiing in. Orange, pink, and brown lenses are usually the most multi-purpose options as they are suitable for a variety of conditions. Make sure you also bring some sunglasses to wear when you aren't on the slopes.
Keeping your feet warm, dry, and free of blisters will ensure you can enjoy as much skiing as possible. Good quality socks for skiing have a range of technical features, including padding over pressure points to prevent your boots from rubbing, some even contain special fibres to cut down on odour. Sweat-wicking is important for your feet too, as wet feet will soon become cold feet!
Choosing either gloves or mittens is very much down to personal preference. Some people argue that mittens with an inner glove layer keep your hands warmer, whereas others prefer the level of grip and ability to use all their fingers freely when wearing gloves.
Waterproof and breathable gloves protect your most vulnerable extremities, as your fingers can very quickly feel the cold if left exposed. Some ski gloves also have additional features such as finger pads that allow you to use touchscreen phones, and soft panels to wipe your goggles or nose.
Buff/neck warmer/balaclava
There are a range of accessories to keep your neck and face warm and protected from the elements. A buff or neck warmer is a tube of material that you can pull up over your nose and mouth if the wind is particularly chilly. These can be purchased relatively cheaply, come in a huge range of designs, and take up very little space in your luggage. If you need a little more coverage, then a balaclava is the most extreme option, covering your entire head and face apart from your eyes.
Keeping your skin protected from the sun is advisable at all times, even the parts of your face that are covered for most of the day will benefit from a layer of sunscreen just in case. Take some sunscreen out with you for regular top-ups. Lips can become dry and chapped in the wind and cold so keeping a lip balm or chapstick in the pocket of your ski jacket will also be handy.
What to pack for a skiing holiday - Après ski wear
It's not just about what to wear skiing, you'll need some options for when you are relaxing away from the slopes and enjoying the après ski facilities. Depending on what you have planned, you might want to bring some more formal outfits for trips to restaurants and bars, as well as activewear and warm hats for other alpine activities.
A good pair of hiking boots will help when navigating snowy and icy paths, although most resorts clear the roads and pathways regularly. It's worth noting that leather footwear can be damaged by the salt used to clear roads.
Some resorts are particularly popular for their spa facilities, if that's something you are interested in then make sure you pack your swimwear so you can enjoy the spa, hot tub or swimming pool.
Enjoy your skiing holiday in comfort and style
A little bit of planning when it comes to your wardrobe can make a massive difference to your comfort on the slopes. Our private transfers and shared transfers take the hassle out of travelling in the mountains, leave the logistics to us and our experienced drivers will get you safely from the airport to your destination.