Whether you are there to glide gracefully across the snow, navigate through beautiful landscapes, or enjoy adrenaline-fuelled jumps and turns – the varied sport of skiing had to start somewhere, and it has evolved into a diverse leisure activity enjoyed by people of all ages.
The history of skiing takes us through the centuries and across the world, starting as a means of transport and survival in isolated alpine communities, then later becoming a mainstream sport and popular recreational activity. Fasten your boots as we glide through the history of skiing, finding out how it became such a global winter phenomenon.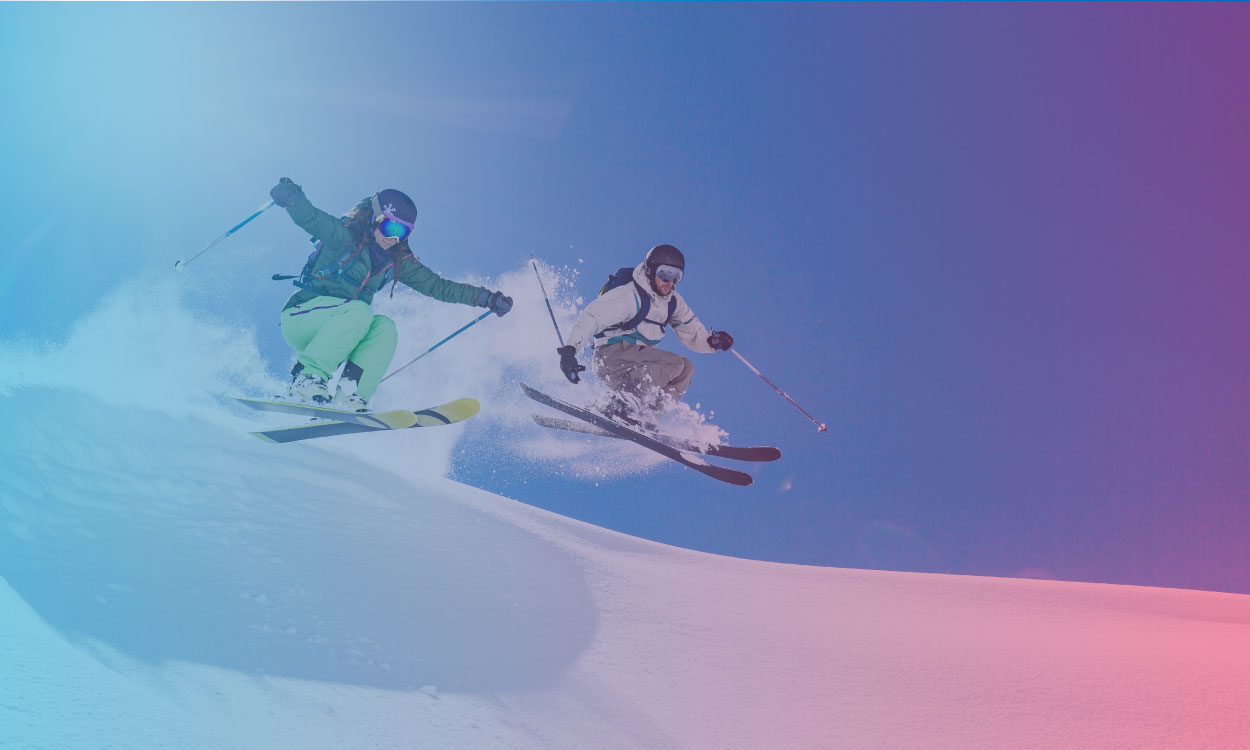 When was skiing invented?
Skiing started as a practical solution for travelling and hunting in frozen landscapes of remote communities. When snow was falling, and the ground and water were frozen, skiing allowed people to continue to gather food. Learning to ski was a means of survival. In terms of evidence, cave drawings suggest that skis were used in the Palaeolithic period, around the last Ice Age.
In the 1960s, fragments of wooden ski-like objects thought to date back to 6000 BC were discovered in Northern Russia. There are also rock carvings in Norway dating back to around 25000 BC, showing figures appearing to travel on skis.
Skiing is thought to have originated in Scandinavian countries, where the indigenous Sámi people used skiing as a method of travelling and surviving in harsh winters. Norse mythology also refers to the God and Goddess of Skiing, Ullr and Skaði (or Skade), showing how important skiing was as part of life and Scandinavian culture.
Snowy and frozen ground is difficult to travel on by foot, so skiing was used as a means of transport, allowing people to stand on and glide over the surface of the snow and ice. In the 1700s, skiing was used by the military in Norway and the Great Northern War of 1716 involving Norway, Sweden, and Russia was fought primarily on skis.
Fighting battles in alpine climates meant skiing was hugely important for the military, and the French army started the Briancon ski school to train regional troops in this vital skill. Troops in various armies began to compete in skiing contests as part of their training, and in 1760 the Norwegian army ran competitive events involving skiing a course through trees, down slopes and across flat snowfields, whilst also shooting targets along the way. There's nothing like a bit of healthy competition to advance your skills!
As the military started to make their ski training more competitive, more and more people noticed this novel way of travelling, and it gradually started to capture the attention of the rest of the world. The evolution of skiing from a military training exercise, right through to becoming a worldwide sport was facilitated by developments in the technology of ski equipment, and things became mainstream when the first Winter Olympics were held in Chamonix, France in 1924.
Different styles and disciplines of skiing also began to develop, the first being Nordic skiing used to travel cross-country on mainly flat land navigating obstacles along the way, and the second being alpine skiing, travelling downhill.
Norway led the way with developments in skiing, and it became known as Nordic skiing. After the army contests of 1760, people became interested in learning how to ski for pleasure and sport. Fast-forward to 100 years later, and in 1867 national cross-country skiing races were held in Oslo, with civilian participants.
The popularity of skiing also spread to mountainous areas of North America, where it soon became a fashionable recreational activity. Nordic skiing was included at the first Olympic games in 1924, and it was at that point that it captured the imagination of the world.
Alpine skiing developed in the 1800s, as more mountainous regions of Europe like the French Alps offered thrilling downhill runs between flatter areas for Nordic skiing. The exhilaration of travelling at great speeds downhill would later develop with the inclusion of jumps and turns as the sport progressed and grew in popularity. Acceptance of this new form of the sport was made clear when alpine skiing was included in the Winter Olympic Games in Germany in 1936 and from there, it became a global phenomenon.
A vital development in the popularity of alpine skiing was the invention of the chair lift in 1936. This revolutionised skiing as a recreational activity, making it easy to reach the top of a mountain without an exhausting climb. This meant skiers could now enjoy multiple runs down the slopes each day, opening up the sport to beginners and providing more experienced skiers with opportunities to spend more time travelling downhill at high speeds.
With the growing interest in skiing, it became a commercial priority to improve the technology of skis and other related skiing equipment to maximise speed, enjoyment and versatility. Developing ways of turning to control speed and using methods from Nordic skiing to change the style of travel downhill meant the sport was changing, and ski technology needed to evolve to support this.
We've put together a brief timeline of the developments in ski technology, to chart the huge leaps made in creating the most advanced and durable equipment for a growing market.
1800s – Cambered skis were invented to distribute the weight of a skier more evenly across the length of the ski. This enabled skis to float and glide over the snow, which increased speed and improved turning ability.

1880s – Using hickory wood imported from America, skiers in Norway made thinner, lighter and more durable skis. The cost of importing wood was significant, so eventually the majority of manufacturing moved to America.

1890s – Two-layer laminated skis were invented; this reduced the weight of the skis by combining two materials. The glue used to stick the layers together was not very reliable, so the layers could separate when exposed to moisture, which was less than ideal.

1924 – Nordic skiing was included in the first Winter Olympic Games in Chamonix, France.

1928 – Steel edge skis were invented, providing a harder, sharper edge for better turning ability. However, the screws fell out easily, so skiers needed to carry spare edges.

1932 – Three-layer laminated skis were invented; they were stronger than ever before and waterproof glue made them much more reliable and durable in harsh winter conditions.

1936 – The Winter Olympics in Germany – alpine skiing was now also included as a discipline.

1936 – The first chair-lift was invented and installed in Idaho, The Rocky Mountains.

1937 – A new glue called 'Aerolite' was used in manufacturing skis, this made them even stronger.

1940s – Early plastics in the form of cellulose fibres were used in combination with aluminium to make various versions of high-performance skis.

1959 – The first plastic fibreglass skis were invented, they were strong, light, and revolutionised the sport of skiing.

1962 – Plastic-shelled ski boots were invented.

1968 – The popularity of fibreglass skis overtook wood and aluminium as skiing became globally popular.

1970s – Huge advances in technology and materials made skis stronger and lighter than ever before. High-speed skis became more accessible to a wide market of enthusiasts.

1988 – Freestyle skiing was included as a discipline in the Winter Olympic Games of 1988.

1990s – Shaped skis made turning easier and more efficient, allowing people to go faster and turn more accurately.
As you can see, in a period of 200 years the technology associated with skiing has made it more accessible. The advances in technology supported an ever-increasing global presence of skiing as a fashionable and fulfilling recreational activity, with endless possibilities for speed and agility on the slopes.
Throughout history, skiing has evolved from a way of surviving in harsh climates to a way of enjoying all the beauty winter destinations have to offer, and in the 1950s the concept of après ski was born.
Translated from the French, après ski means 'after ski' or 'after skiing', giving people something to enjoy before and after their time on the slopes. The sociable environment of the ski resort villages became as much of an attraction as the mountains themselves, with bars, restaurants and spas available to enjoy all year round. The culture and communities created around the resorts are part of the irresistible lure of skiing, and our customers come back multiple times each season to enjoy the atmosphere and catch up with friends.
As the popularity of skiing exploded across the world from the 1930s onwards, it spread from Europe and North America to reach New Zealand, Australia, Argentina, Chile and Japan. Wherever there are snowy mountains, there are potential ski slopes to enjoy!
Ski resorts in the French Alps like Morzine, Val Thorens, Meribel, Tignes and Val D'Isère developed a thriving winter community, with nearby airports making access from the rest of the world as straightforward as possible. At Alpine Fleet, our customers enjoy convenient shared transfers and private transfers from nearby airports, relaxing in comfort while we get them to their destination safely, and on the slopes as soon as possible.
Contact us today to book your ski transfers, we'll take the hassle out of travelling as our experienced drivers take you from door to door. There's a whole mountain out there waiting for you to arrive, and a resort full of après ski activities to enjoy, so make the most of every moment with a shared or private airport transfer at competitive prices.