How To Get To Val Thorens
Situated in the Savoie region of the French Alps in the South East of France, Val Thorens is the highest and one of the most popular ski resorts in the Three Valleys area. The high-speed network of lifts gives you access to brilliant snow, right up to 3,230m. Not only is this an excellent skiing location for all abilities, and the compact village also has some of the best après ski atmosphere in France.
Val Thorens offers the longest skiing season in the Alps, with superb quality early and late-season skiing. Check out our guide to skiing in Val Thorens for more detailed information and our top tips.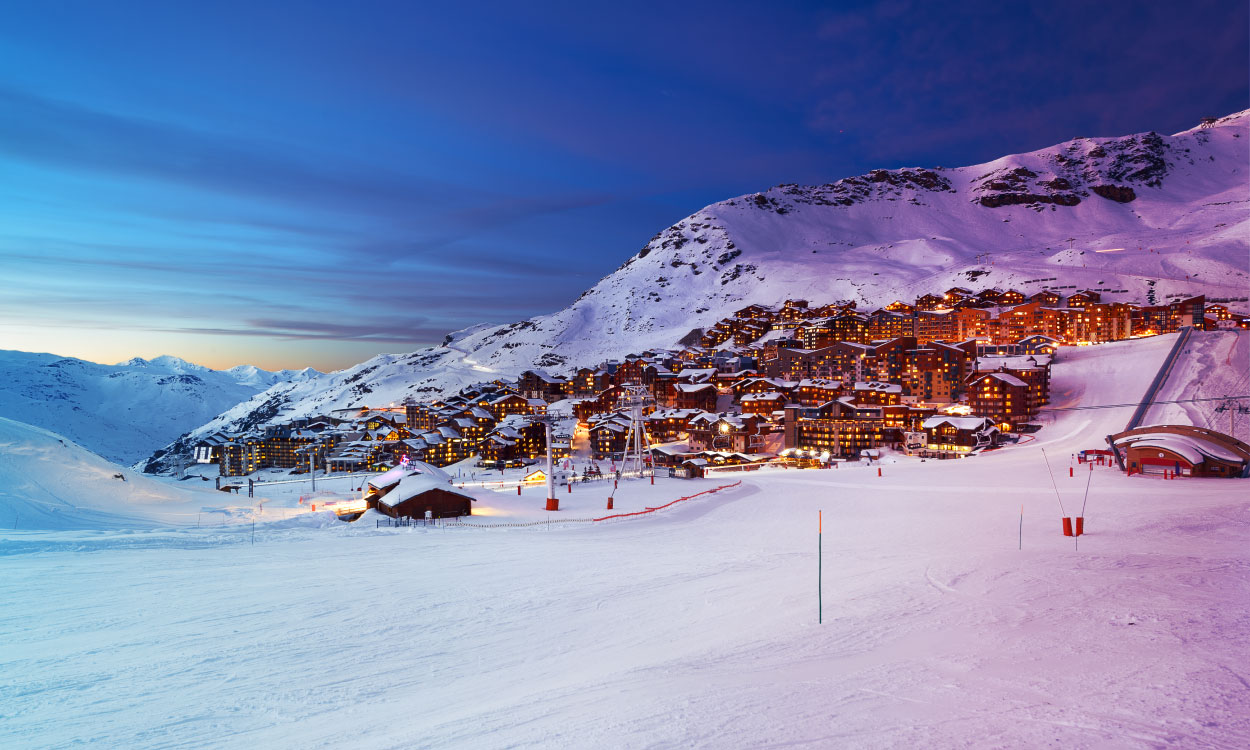 Best ways of getting to Val Thorens
There are lots of options for travel, and the best way of getting to Val Thorens will depend on your schedule, budget, priorities for your trip, and where you start your journey. Our convenient and comfortable shared transfers and private transfers are popular with those looking to get the maximum amount of time to enjoy the slopes
Flights and airport transfers to Val Thorens
If you are keen to have as much time on the slopes as possible, then flights and airport transfers to Val Thorens will be the quickest and easiest option. Although the nearest airport to Val Thorens is 122 km away at Chambery, only a very limited number of flights are available. So, the best airport for Val Thorens is Geneva airport, around 200 km away; there are frequent flights to Geneva from most European cities and from across the world.
Getting to Val Thorens from Geneva airport
It takes around three and a half hours to get from Geneva Airport to Val Thorens. We'll meet you at the airport and our comfortable and convenient ski transfers from Geneva mean you can relax, rest, and prepare for your skiing trip, while we take care of the journey. 
Our shared transfers are available during the winter, between 16th December and 16th April. We offer stops at convenient locations across Val Thorens, getting you closer to your accommodation with all your luggage. We also stop at the picturesque village of St Martin De Belleville and Les Menuires. We also occasionally stop at Moutiers for passengers connecting to other resorts in the area.
Unlike many of our competitors, we offer multiple stops around each resort including top hotels, notable landmarks and all the best places to get you as close to your accommodation as possible. You can check out all the stops on our Val Thorens destination map.
We also provide private transfers all year round, offering you the ultimate convenience, running to your schedule so you don't need to wait around at the airport or make any extra stops along the way. Private transfers are a little quicker, and there is also the option to choose between our standard or premium vehicles.
Other than unloading, cars are not permitted in the village, this makes Ski transfers to Val Thorens incredibly popular, as there's no need to worry about where to leave your car. We'll pick you up at the end of your holiday too, from a variety of collection points across the whole of the resort. Our representatives are based in the resort and will be there to meet all arriving and departing guests. We will also call you to confirm everything the night before your travel, to make everything as simple as possible. 
If you have a little more time on your hands and don't mind sacrificing some time on the slopes, then getting the train to Val Thorens can be a nice way to enjoy the scenery on your way to and from your skiing holiday. If travelling from London, the total travel time is around 10 hours by train. The Eurostar from London, and the TGV from Paris both stop at Moûtiers, which is the closest train station to Val Thorens.
Train routes and travel times can be subject to change, so make sure you check for the most up-to-date information before making your journey.
Our customers tend to prefer the comfort and convenience of flying to Geneva and booking our reliable airport transfer service, to make the journey as straightforward as possible.
If you are trying to save some time, it is often a little quicker to change trains in Paris by transferring between Gare du Nord and Gare du Lyon via the Metro. Trains also run to Moûtiers from Belgium and the Netherlands, as well as trains from Geneva and Milan, which go via Chambery.
It takes between nine and ten hours to drive the 930 km to Val Thorens from Calais. Driving to Val Thorens is probably the least convenient option as it is a car-free resort. If you drive to Val Thorens you will need to park in an official car park on the outskirts of the village and then catch a shuttle bus to where you are staying. It is also strongly recommended to book your parking in advance at least one week before arrival.
One of the main benefits of airport transfers with Alpine Fleet is that you can leave the logistics to us. You'll arrive as close as possible to your accommodation and can focus on getting settled in, without worrying about where to park your car or how to book parking.
Unlike other destinations, having a hire car or bringing your own vehicle will not offer you any additional freedom, as you'll need to make the trip to collect it from a car park whenever you want to use it. Don't forget, it's also a legal requirement to have winter tyres on and to carry snow chains in your car once you reach the mountain roads. When planning your journey by car, remember to also budget for fuel, tolls, and parking charges.
Coach / Bus to Val Thorens
The regular winter coach service from London Victoria to Moûtiers travels via Folkestone and takes around 20 hours. This is definitely the slowest option for travelling to the resort, but journeys usually run overnight and it is a great option if you are on a budget. From Moûtiers, you can catch a local bus service to Val Thorens.
Our convenient airport transfers to Val Thorens are available throughout the year, with private transfers in every season, as well as shared transfers during the winter months.
The journey from the airport gives you a chance to plan your trip, or maybe decide which bar you'll go to after we drop you right outside your accommodation.
Our experienced drivers are licensed, fully insured and confident on the mountain roads, simply contact us today to book your transfer to Val Thorens at a competitive price.