How To Get To Val d'Isere
The beautiful traditional chalets and world-class hotels of Val d'Isere attract international visitors throughout the seasons. The ski resort is made up of two main areas, La Dallie & Val d'Isere, both with a distinct atmosphere and a variety of vibrant après ski options to suit all tastes. Val d'Isere is perfectly positioned among spectacular slopes, with excellent ski lift connections to neighbouring Tignes and just 5km from the Italian border.
We provide reliable, comfortable shared transfers and private transfers for our customers, making getting to Val d'Isere as convenient as possible. Shared transfers operate from December to April, with fixed collection and drop-off points to get you as close to your accommodation as possible If your accommodation is more than a couple of minutes walk from one of our stops, you can choose opt for or private transfers service that operates all year round and our premium service upgrade will ensure you start your holiday in style.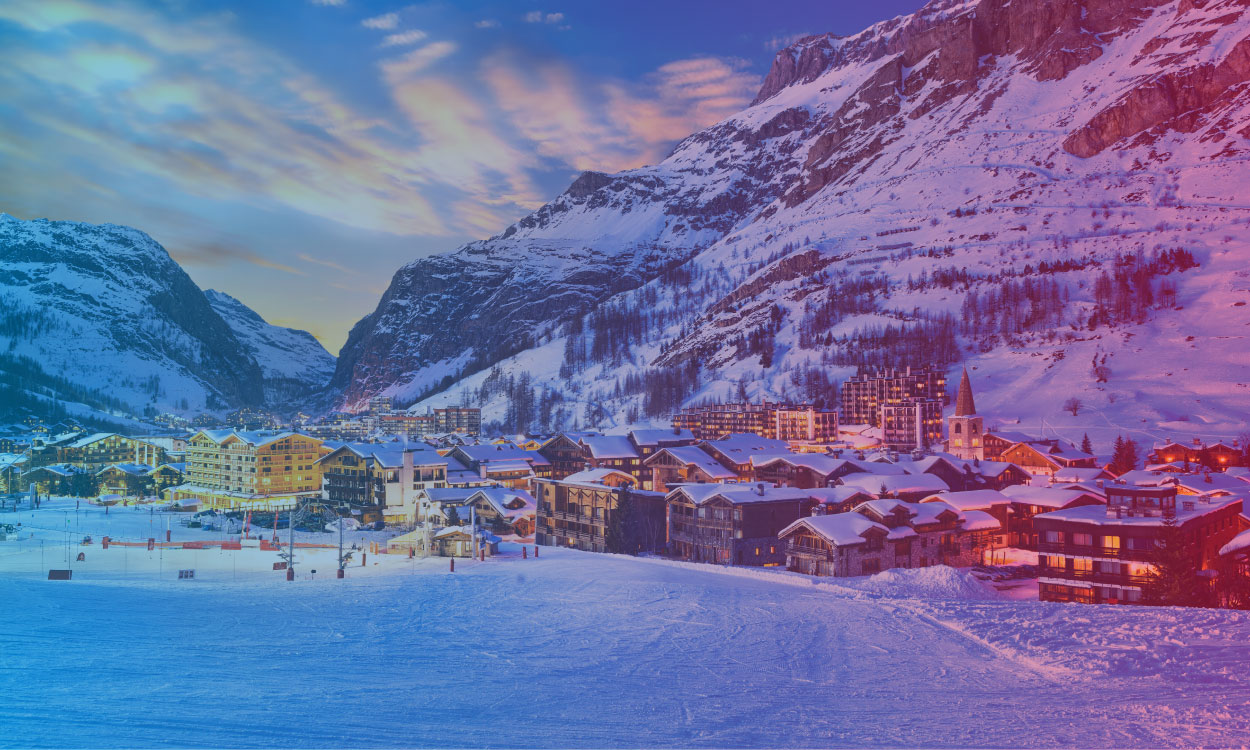 Best ways of getting to Val D'Isere
The most convenient way to get to Val d'Isere is to fly to one of the closest airports. Geneva Airport is usually regarded as the best airport for Val d'Isere, as although it isn't the closest it offers the most frequent and competitively priced international flights.
There are many different travel options to explore when planning how to get to Val d'Isere, ultimately the best choice will depend on where you are travelling from and your priorities for your trip. Most of our customers are keen to get to their accommodation as quickly as possible, with minimal hassle so they can just relax and take in the scenery.
Flights & Airport Transfers to Val D'Isere
Getting to Val d'Isere from Geneva Airport is easy with our shared transfers and private transfers. Val d'Isere's nearest airport is 145km away at Chambery, Geneva Airport is also just 190km away or just over 3.5 hours by road. We now operate private ski transfers to Val d'Isere from Geneva Airport, Chambery Airport, Lyon Airport and Grenoble Airport.
Customers booking private transfers will be met in the arrivals area by one of our experienced drivers, and from there you'll travel directly to your accommodation in comfort. Shared transfers operate via convenient fixed points across the area, including stops for those connecting to other ski resorts. We'll also collect you from these points, making your return journey just as simple and cost-effective.
You can find out more about the stops available on our Val d'Isere destination page. We also provide door to door transfers This is the same service as the Fixed Point Line, but with an additional last mile minibus direct to your door.