The popular resort of Tignes in the French Alps has something for visitors of all abilities to enjoy, from challenging black runs to easy-going slopes, and a vibrant après ski atmosphere. Tignes has one of the longest ski seasons in Europe, thanks to being high in the mountains, so the slopes are usually open from November through to May. You can find out more about the area and some of our top tips in our Guide to Skiing in Tignes.
Our customers trust us to take care of how to get to Tignes from Geneva, so they can relax in comfort before shared transfers drop them off at one of our multiple, convenient stops across the resort. Alternatively, you can arrive in style with our private transfer service, taking you door-to-door in one of our standard or luxury vehicles.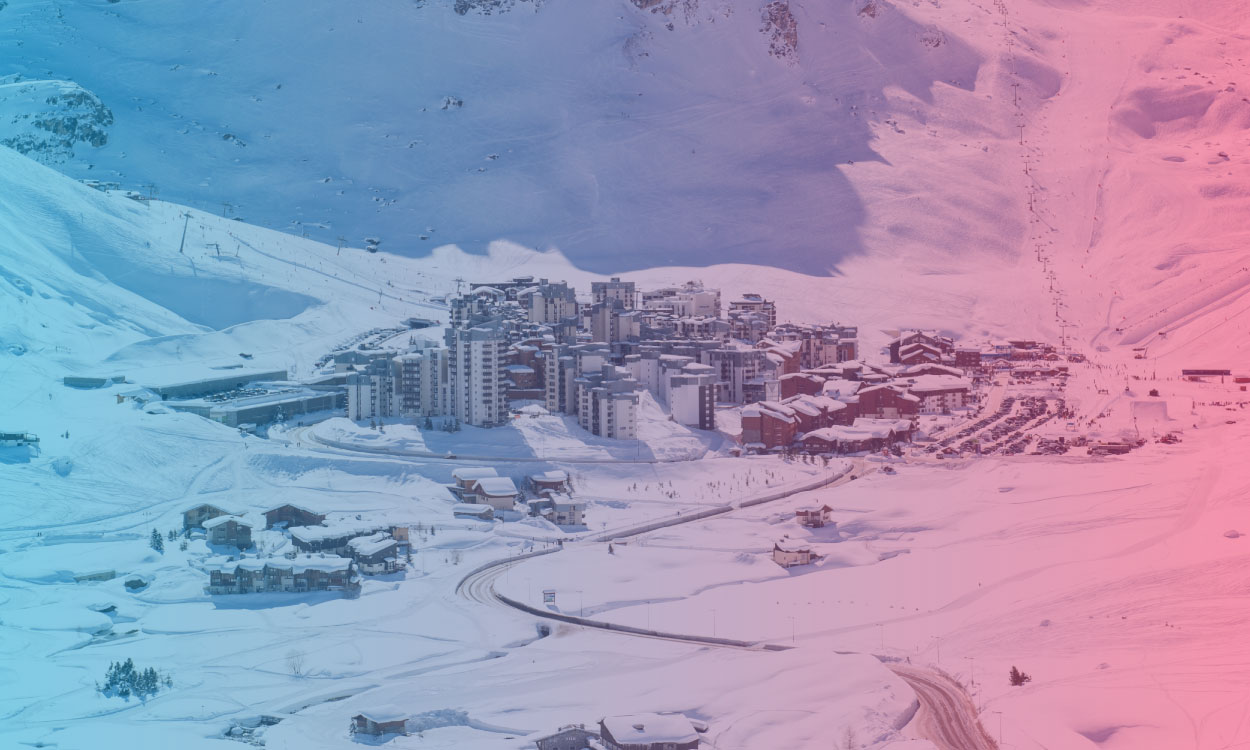 Best ways of getting to Tignes
The quickest and most convenient way to start your holiday in the French Alps is to travel by plane to Geneva Airport. Although it's not the closest airport to Tignes, it offers the most frequent international flights so, in our opinion, that makes Geneva the best airport for Tignes (and the most popular).
Flights and airport transfers to Tignes
At just over 170 km away, we can transport you safely from Geneva Airport to Tignes in around three and a half hours. Private transfers operate all year round, and shared transfers run from 16th December to 7th April, offering plenty of options for our customers looking to get to the slopes with minimal hassle.
By providing multiple stops across the resort, our shared transfers will get you closer to your accommodation, you can check out our Tignes destination guide and map for more details of the drop-off and collection points available on the route. Put your feet up, relax and enjoy the view with ski transfers from Geneva Airport to Tignes with Alpine Fleet.
Train journeys with skiing or snowboarding gear can be a little complicated, but if you'd prefer to avoid flying and you have a bit of extra time on your hands then getting the train is still a possible option when considering how to get to Tignes.
Depending on where you are travelling from, you'll probably need to change trains several times. For example, travelling from London St Pancras on the Eurostar to Bourg St Maurice will take somewhere between eight and ten hours. Usually, you'll need to change trains in Paris and get the Metro from Gare du Nord to Gare de Lyon, which takes around 40 minutes.
The leg of the journey from Gare de Lyon to Bourg St Maurice takes between four and seven hours, as it can involve multiple train changes, either at Chambery, Aix Les Bain or Lyon (or a combination of these). Alternatively Our customers prefer to take the train to Geneva and leave the final part of the logistics to our experienced drivers, so as soon as they leave the airport in our shared transfers or private transfers they know they can sit back in comfort until they arrive at the resort.
Driving to Tignes is probably only an option if you live nearby, or if you are planning to make the journey part of your holiday. After you've crossed the channel into France, it's nearly 1000 km or around 10 hours by road from Calais to Tignes, so you'll probably need to stop and spend the night somewhere along the route.
Some important things to remember, getting to Tignes by road will involve using some toll roads, you will also need to ensure you have snow chains and winter tyres, as well as the correct insurance coverage. Most of the journey will be on motorways but be prepared for the last section of the journey from Bourg St Maurice to be more mountainous.
Our experienced drivers are confident on mountain roads and have all the correct equipment on board, as well as being familiar with the area. By booking our shared transfers or private transfers from Geneva Airport to Tignes you can leave the driving to us, and we'll get you from the airport to your accommodation in comfort.
Another thing to consider when planning how to get to Tignes is that parking can often be limited in the resort or close to the bottom of the slopes, so make sure you book ahead. Depending on where you manage to book a parking space, you might need to travel from your parked car to your accommodation. Once you have arrived though, you probably won't need to use your car very much as the resort is well-connected with lifts and shuttle services, so why not fly and leave the car at home?
If you are looking at how to get to Tignes for the lowest price, then coach travel is probably the cheapest option. However, the journey from the UK can take up to 18 hours, mainly travelling overnight. Some people do enjoy the opportunity to socialise and meet new people on the coach trip, but with everyone trying to sleep, this might not be the best way to make friends!
Our customers prefer to travel to Tignes as quickly as possible, so they can get on the slopes and start enjoying their holiday straight away. You can even upgrade to a luxury private transfer if you want to arrive in style and make the most of the journey. It's a great chance to consult our Guide to Skiing in Tignes and start making plans for your trip, or just to have a nap and recharge, so you arrive feeling refreshed and raring to go.
If you are planning how to get to Tignes, you can join our valued customers and book one of our reliable shared transfers or private transfers from Geneva Airport. Our convenient and cost-effective services will get you closer to your accommodation, giving you as much time as possible to enjoy the resort, by simply leaving the logistics to us.