Méribel is in the Savoie region of the French Alps, at the heart of the world's largest ski area, the Three Valleys. With 600km of varied runs, Méribel is popular with visitors of all ages and abilities. The resort has a vibrant après ski atmosphere spread across several villages, surrounded by some of the most popular ski slopes in Europe.
We make getting to Méribel easy, with shared transfers and private transfers allowing you to relax and get to the slopes in comfort and as quickly as possible. You can find out more about the area in our Guide to Skiing in Méribel. The excellent connections from Méribel to Val Thorens and Courchevel make it an incredibly popular resort with our customers, many of whom visit multiple times each season.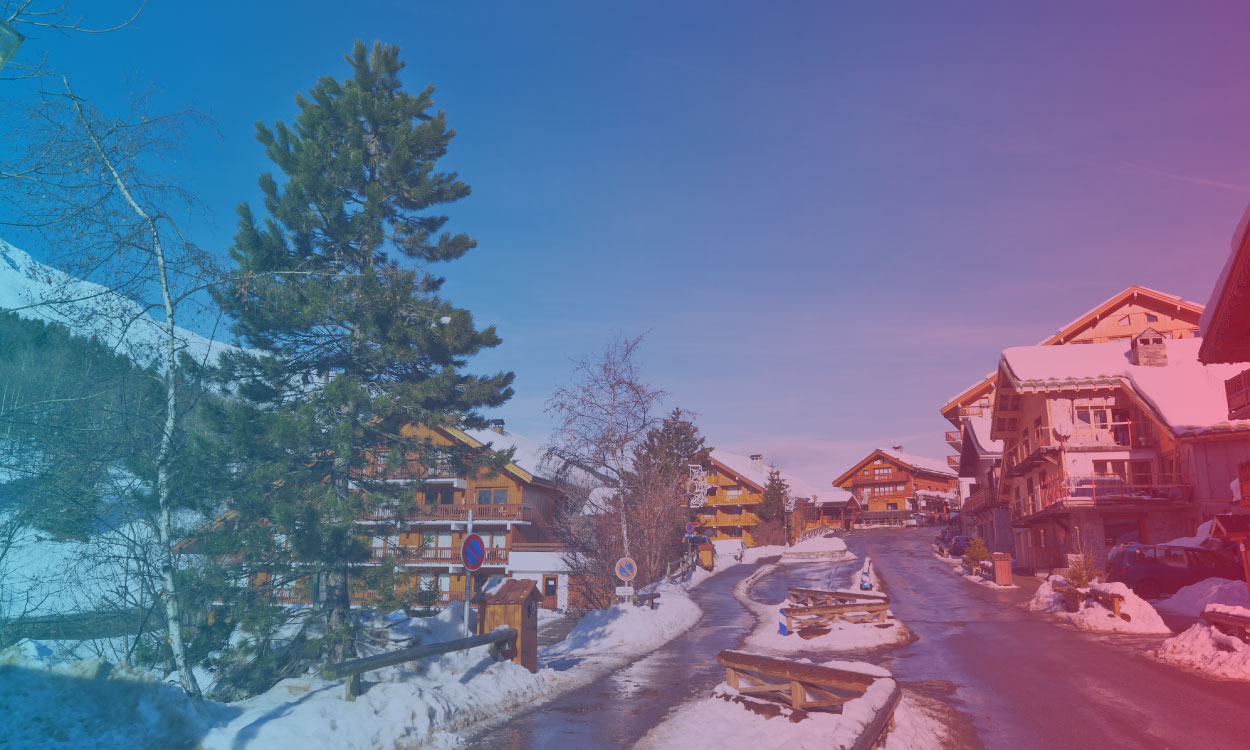 Best ways of getting to Méribel
When you are looking at how to get to Méribel, most people find flights and ski transfers to be the most efficient option. The method of transport you choose will depend on how keen you are to get to the slopes, as well as your budget and priorities for your trip.
Flights and airport transfers to Méribel
Flying to Méribel's nearest airport, Chambery might seem like the easiest option, however, it is not the ideal route for most travellers. Chambery is the smallest airport in the local area, so there are fewer flights and onward transport options available from the rest of Europe, and prices can be higher.
Although Chambery is the closest airport to Méribel, in our experience the best airport for Méribel is Geneva. Geneva Airport offers excellent connections from Europe, with frequent flights and more competitive prices.
Getting to Méribel from Geneva airport
Our dedicated team will meet you from your flight, making ski transfers from Geneva to Méribel quick and easy. The door-to-door journey takes around 3 hours by road, during which time you can relax, and look forward to hitting the slopes as soon as possible. Our experienced drivers will get you safely to your accommodation, with convenient stops across the whole resort, as shown on our Méribel destination map.
Shared transfers operate between the 16th of December and the 9th of April, and private transfers are available all year round. We offer a choice of standard or luxury vehicles, with booster seats and baby seats included free of charge to make travelling with your family as safe, comfortable, and convenient as possible.
Alternative ways of getting to Méribel include travelling by train, which takes a little longer than flying and can be quite expensive. The train leaves from London St Pancras on a Friday night or Saturday morning, travelling directly to Moutiers. On weekdays, you'll need to take the Eurostar to Paris Gare du Nord, before transferring to Gare de Lyon and catching a connecting train to Moutiers.
Travelling to Méribel by train can be subject to delays, especially when French transport strikes take place, and you'll need to carry your luggage between connecting journeys. When you arrive at Moutiers, don't forget you will need to arrange additional transport to get you to your accommodation.
Driving to Méribel takes about nine and a half hours from Calais. The majority of the route is via motorways until you reach the mountain roads in the last 30 minutes of your journey. It is important to remember that in the winter season, it is a legal requirement for all vehicles to be fitted with winter tyres and carry snow chains on mountain roads.
If you are driving to Méribel, you will need to allow for the cost of toll roads along the way, as well as parking when you reach the resort. Parking can be a bit of a challenge in peak season so make sure you book ahead. You might also need to walk or catch a bus from one of the parking locations to reach your accommodation.
Our customers prefer to leave the logistics to the experienced drivers of our shared transfers and private transfers, while they relax and enjoy the journey.
Top tip!
When driving to Méribel, most satnavs will take you on a default route directly through the centre of Paris. We'd recommend planning your route to divert around the city, as it can be quite a stressful experience, especially at night and if you've been driving over a long distance.
Probably the slowest and least comfortable option for getting to Méribel is to travel via coach or bus. Depending on where you start from, coach journeys can take anything up to 20 hours, usually travelling through the night on a Friday. Overnight coaches depart for Méribel from London Victoria on a Friday afternoon, there are also slightly cheaper options that will get you to Moutiers, where you'll need to then catch a local transportation to reach Méribel.
Coach and bus travel are some of the cheaper options for how to get to Méribel, however, you'll be giving up time on the slopes and you might find you arrive feeling tired and uncomfortable after an overnight coach journey. With our ski transfers from Geneva Airport to Méribel, you'll be at your accommodation in under three hours, so you'll feel refreshed and can head to the slopes as soon as possible.
Alpine Fleet customers choose our shared transfers and private transfers so they can make the most of their time on the slopes around Méribel.
We'll get you closer to your accommodation via convenient collection and drop-off points across the resort. Our helpful representatives will check in with you the night before departure too, so you know exactly when you'll be collected for your return journey.
Contact us to find out more, and let our experienced team take the hassle out of the journey so you can relax in comfort.