Guide To Skiing in Morzine
Morzine is a popular ski resort in the French Alps. Here we explore everything there is to know about skiing in Morzine. 
The skiing resort of Morzine is a popular choice for skiers of all levels, whether you're planning your first ever trip to the slopes or you're a seasoned skier. With great transport links and options for every budget and skill level, a Morzine ski holiday is a great option. 
In this guide we'll explore everything there is to know about the ski resort and provide insider tips to ensure your trip goes off without a hitch.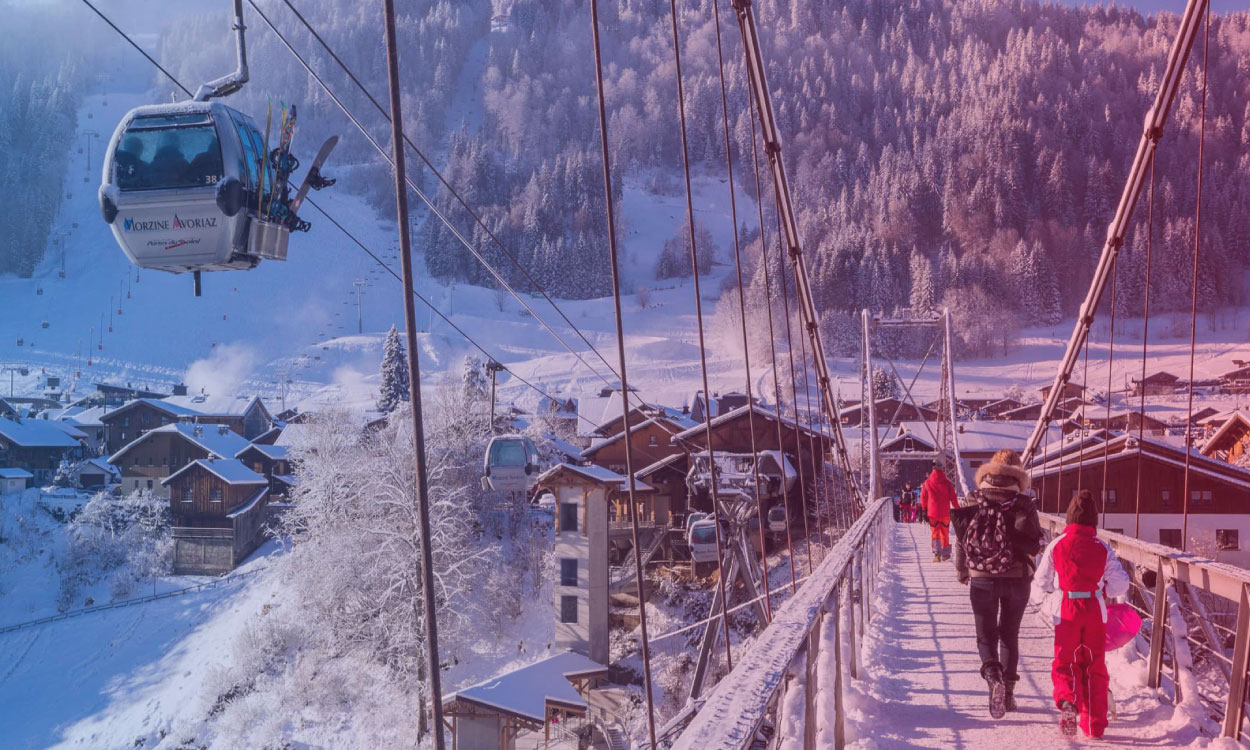 Morzine is located in the French Alps, close to the Swiss border. Part of the expansive Portes du Soleil ski area, the Morzine ski resort has great links to neighbouring ski resorts and slopes. 
The French town of Morzine is as classic as they come with weekly markets, traditional rustic chalets and a variety of luxury accommodation options. 
Morzine is just over an hour away from Geneva airport which makes it one of the most easily accessible ski resorts in the French Alps. The picturesque shores of Lake Geneva are just 20 miles away too. 
Morzine ski resort has plenty of slopes and mountains to choose from. So what can you expect from the resort's mountains?
The first ski run was opened in Morzine all the way back in 1925 however Morzine didn't become a ski town until 1934 with the installation of the Pleney cable car, only the second to be installed in the whole of France!
Morzine sits at an altitude of 1000m and thanks to its atmospheric weather conditions is one of the wetter regions of the French Alps.
The wider Portes du Soleil area records some of the highest snow falls and deepest snow depths in the whole of Europe and the lower slopes of Morzine are mainly on pasture land which means the slopes need only around 10cm of snow to be open and are easy to maintain. 
Morzine ski resort really does have something for everyone. Alongside the extensive slope options there are ski lifts, an aquatic centre comprising 3 outdoor and 3 indoor pools, ice rinks, a golf course, a variety of bars and restaurants and seasonal activities. 
Thanks to the ski and play areas for children Morzine ski resort has a "Famille Plus" label which makes it a great choice for family ski holidays. 
Those in the know commonly see Morzine as an intermediates paradise but there is still plenty for more advanced skiers with 9 snow parks, some tricky black slopes and an impressive amount of accessible off-piste terrain to explore. 
The winter season will usually run from mid-December right through to mid-April. 
Like any ski trip, the time of year you visit Morzine ski resort will impact the holiday you have. For example if you're dreaming of sunny slopes followed by a cold glass of wine, March and April are the ideal months, whilst those looking for quiet slopes with plenty of fresh snow should book for January. 
Luckily for visitors, no matter what time of year you visit, providing the lifts are open, the local pisteurs will prime the snow (both real and artificial) to perfection ensuring you have the very best time. 
Les Portes Du Soleil - Ski Areas
Morzine is part of Les Portes Du Soleil which comprises of various ski areas, let's explore them below. 
Portes di Soleil translates to "Gateway to the Sun" and is one of the largest ski areas in the world. 
Morzine lies in the heart of Portes du Soleil that's made up of 13 different ski resorts spanning France and Switzerland. 
The area takes its name from a mountain pass that connects Morgins and Les Crosets and at the beginning and end of the season still has heaps of snow to be enjoyed. 
In total the area has 600km of pistes with 306 pistes and 30 snow parks. There are also almost 200 ski lifts and the ski slopes on offer are made up of 38 greens, 131 blues, 105 reds and 32 blacks.
Grand Massif Domaines Skiables
The Grand Massif ski area is home to stunning panoramas and landscapes thanks to its location right in the heart of the French Alps. 
The iconic Mont Blanc towers above the slopes and you'll find 70 ski lifts giving you access to 265km of pistes. 
Its high altitude guarantees you good snow coverage and the season here runs from December to April. 
Grand Massif is particularly good for snow sports fans at every level with pistes accommodating families and beginners right through to experts and snowboarders. 
Be sure to look out for the Cascades in Flaine, an underrated 14km run. 
Located 600m above Morzine, Avoriaz can be reached via three different lifts from Morzine. You can take the Super Morzine Bubble from the centre of town, or opt for the Lordains Bubble or the Linderets Express. 
Avoriaz is home to Europe's first freestyle park, The Burton Stash, and is therefore incredibly popular with snowboarders. 
The area is full of snowparks, a halfpipe, snowcross and a big air making it a great place for skiers of all ages to have fun on the slopes. 
Thanks to the slight trek you'll need to embark on from Morzine it's a particularly popular place for more experienced skiers with a vast range of runs including 250km of blues and reds. 
True experts should head to the Swiss Wall, the notorious run that connects France and Switzerland but this really is for slope professionals only. Head down Les Prodains to find multiple black runs if your skills are up to scratch. 
Morgins is a popular Swiss ski resort and is nestled amongst stunning scenery including alpine meadows, mountain lakes and the towering Dents-du-Midi mountain range. 
Morgins is a particularly popular choice for those wanting to escape the crowds whilst still getting the thrill of chasing a big mountain. 
You'll find an excellent array of beginner and intermediate slopes as well as some super long valley trails and expansive off-piste and freeride terrain options to explore. 
The chocolate box village is surrounded by pine trees and natural beauty but is perhaps not the location for experienced and advanced skiers looking for a thrill. 
Skiing in Morzine - By Ability
The Morzine ski areas offer something for everyone from beginners right through to intermediate and advanced skiers. 
Skiing In Morzine for Beginners
Beginners and families can stick to the Pleney area where you'll find an array of gentle and wide slopes with plenty of room to practise and perfect your turns. 
Out of the 69 runs in Le Pleney, 29 are blues and 3 are green. The south-facing slopes leading off the Pleney telecabine are all sundrenched and wide, making them popular with beginners and families. 
Piste B, Corbeau and Grizzli are blue runs in the area that are particularly great for skiing novices. 
Les Gets also has three "Mappy Areas" that are set aside for beginners of all ages, including two magic carpets and a tow rope. There's also an array of restaurants and bars nearby which make the perfect spot for a sit down when you need a break from the slopes. 
Skiing In Morzine for Intermediate Skiers
For those looking to hone their skiing techniques whilst skiing in Morzine, the Super Morzine area is perfect.
Located on the opposite side of the valley to Le Pleney, it's perfect for intermediate skiers with a variety of wide yet steep slopes to explore.
A couple of blue runs named Zore and Tetras are particularly good and can be found in the immediate vicinity of the ski lift. 
Skiing In Morzine for Advanced Skiers
Whilst Morzine isn't known for its advanced ski runs, there are a few options that allow you to pick up some speed and test your mettle. 
The south facing slopes off Le Pleney would likely be awarded black run status if it wasn't for the fact that they lead directly into the resort whilst Olympique is a black run with a steep drop adjacent to the lift line. 
Over on the north-facing slopes you'll find the pistes of Nylon, the highest peak in the Morzine area. This area is perfect for powder fans who want to enjoy steep, deep and untracked slopes. 
Advanced skiers can also find some good black runs in the Chavannes Bowl in the Les Gets area. These runs are perfect for morning skiers as they're at their best after a fresh snowfall. 
Transfers from Geneva to Morzine take just 1 hour 30 minutes and take you through the snowy mountains as you gear up to get going on the slopes. 
Highly trained Alpine drivers can take you from the airport to your resort, and the short transfer time makes Morzine popular with families who want to avoid long and hair-raising car journeys through the mountains with children. 
Here at Alpine Fleet we offer both shared and private transfers with various different stops in Morzine available to passengers. 
The short journey time makes Morzine perfect for shorter breaks, as you'll spend less time in the car and more time on the slopes. 
Guide to Skiing in Morzine
Morzine is a traditional skiing resort in the heart of the French Alps and is perfect for beginners and families as well as more advanced skiers looking for a short break to the slopes. 
Hundreds of skiers descend on Morzine every day during the winter season (December-April) and here at Alpine Fleet, we provide quick, safe and cost-effective transfers to get you from Geneva airport right to the heart of the Morzine mountains. 
To find out more about our transfer service, head to our dedicated Morzine page or get in touch with the team to book your space.