Guide To: Skiing in Chamonix
A Chamonix ski holiday provides the ultimate mix of skiing and Apres Ski vibes. Check out this guide to help you plan your trip to the slopes. 
One of the oldest and most prestigious ski resorts in the French Alps, Chamonix is a popular ski destination for skiers from across the globe. Nestled at the foot of Mont Blanc, whilst the ski resort may be smaller than some of its neighbours, its wide variety of challenging terrain means it welcomes skiers of all abilities year after year. 
If you're thinking about a Chamonix ski holiday, take a look at this expert guide bursting with mountain facts and slope highlights.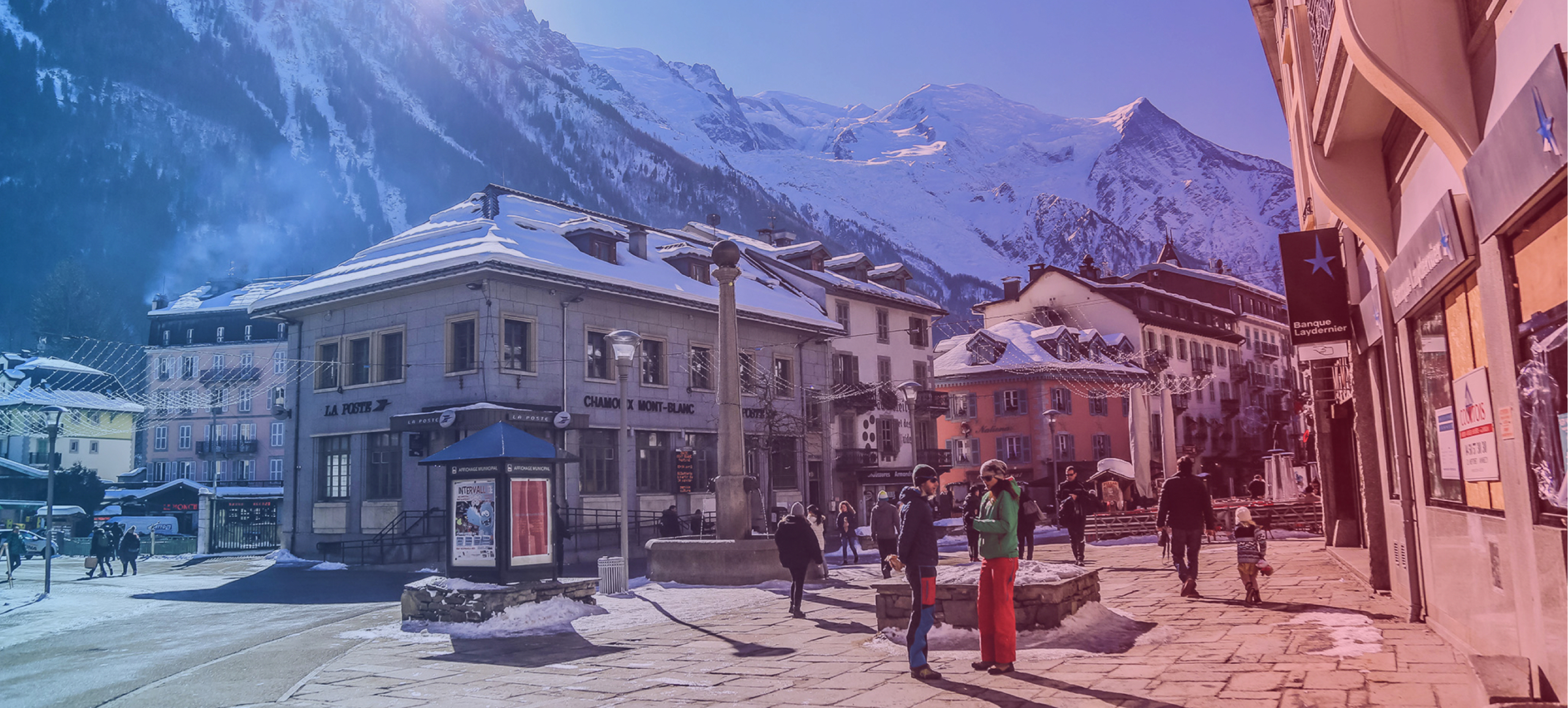 Chamonix is located at the foot of the iconic Mont Blanc in the French Alps. 
The resort is easily accessible and is just over an hour from Geneva airport. It's also super easy to access from Chambery, Turin and Lyon. 
Chamonix sits within the Haute-Savoie area of the French Alps at a height of 1035m.
Chamonix's ski area is spread across five mountains: Grands Montets, L'Aiguille du Midi, Le Brevent, La Flegere and Le Tour. 
The best snowfall usually hits the region from January-March with visitors in January able to expect around 109cm of powder atop the slopes. 
Chamonix has multiple runs spanning 155 km made up of 39 easy, 25 intermediate and 10 difficult slopes to explore.  
Chamonix is renowned for its history and is dubbed the "mountain capital of the world". Back in 1924 Chamonix ski resort hosted the first ever Winter Olympic Games. 
Chamonix ski resort is perfect for skiers of all abilities and groups of all sizes and ages. 
The charming town of Chamonix has much of its old, alpine charm and the traffic-free centre is the perfect place to explore after a day on the slopes. 
There's plenty to keep you entertained if you don't fancy strapping on your skis including paragliding, indoor ice skating, helicopter rides and snowshoe walking. 
Chamonix ski resort is a foodie's dream with over 170 restaurants spanning the town and mountain. As you can imagine with that many options on offer, there's a cuisine and vibe to suit every taste and budget. 
If you're looking for an indulgent treat, Albert Premier is a Michelin Star restaurant whilst Casa Valerio serves up pasta and pizza and is perfect for those on a budget. 
Of course we can't talk about a ski resort without discussing the Apres Ski scene and Chamonix has a lively nightlife with bars including a pirate themed rum bar and a traditional Irish pub. 
The Chamonix ski areas are extensive and there are plenty of terrains and slopes to explore, ensuring you'll never be bored.
L'aiguille du Midi has 24km of ski routes available, all serviced by 5 ski lifts. 
This area is the closest that most non-climbers will be able to get to Mont Blanc and offers skiers stunning views of the French Alps. 
The cable car here holds the record for the largest vertical climb and the journey is completed in two stages over dense forest areas. 
The Le Brevent area is more targeted towards intermediate and advanced skiers with just one green run suitable for beginners in the area. 
Perfect for skiers who love the sun, the area is bursting with challenging slopes for those looking to test their skills…and their nerves!
The Charles Bozon run from Brevent to Plan Praz is particularly challenging. The black run is perfect for more advanced skiers and has a wall down one side following you all the way down. 
Thanks to its steep faces and high cliff jumps the area hosts the Red Bull Extreme Skiing competition towards the end of February, perfect if you'd rather watch all the action. 
The Les Grand Montets area is bursting with high slopes, steep descents and some great snowfall. 
The Point de Vue and Plyones runs are both popular options that offer unrivalled views. They're tricky though and require a good standard of technical skiing knowledge. 
If you're not quite ready to try these then beginner slope Les Grands Montets is the easiest one in the area and perfect for those just starting out or whose skills are a little rusty.
Le Tour is situated at the top of the valley and is perfect for beginners with plenty of nursery slopes to help get you started and build your confidence.
There's also plenty of reds to try your hand at as well as a couple of blacks and some off-piste terrain for those with serious ski skills.
The area also has one of Europe's largest snowparks with a 1000m long freestyle zone and various runs for snowboarders to try. 
La Flegere is perfect if you've got skiers of all abilities in your group as it caters to almost everyone. 
Its south-facing position means it is often basked in sunshine and the area even has a speed track for you to measure your progress on the slopes. 
The Trappe is a popular green run which has a chair lift instead of a drag lift making it the ideal option for skiers looking to build their confidence.
As La Flegere isn't as steep or as busy as some of the other areas of Chamonix ski resort, it's particularly great for intermediate skiers who want to practise their tricks.
The groomed ski runs of Les Houches cover 55km through the ancient mountain forests. 
The Bellevue Airpark is perfect for freestylers looking to try out some new moves whilst the La Verte des Houches is a World Cup descent ideal for those who want to try out some speed skiing.
There's also 10km of marked trails for cross country skiers and a handful of black runs for more advanced skiers to try out. 
La Vormaine is a complete beginners area which means you can brush up on your skills without worrying that you're getting in the way of more advanced skiers.
The area has 4 drag lifts and 2 green runs for first-timers as well as a blue run for those who feel ready to push themselves further. 
There's also a fully equipped and safe freestyle area where beginners can practise skills and tricks safely as many times as you like. 
Les Planard is actually open all year round. It's a ski zone in the winter and in the summer months turns into an amusement park. 
This is the perfect area for those who may be starting as novices but who are determined to push themselves and hone their skills during their Chamonix ski holiday. 
The area has two green runs for beginners as well as one blue and one red run, both of which are long and winding and just right for skiers who have built their confidence and who are ready to progress.
Skiing in Chamonix - By Ability
A ski holiday to Chamonix is a great choice for skiers of all levels, with slopes, lifts and terrain on offer no matter how confident you are on your skis.
Skiing in Chamonix for Beginners
Les Planards is the perfect place for beginners and the various nursery slopes in the Chamonix ski resort are ideal if you're just getting started. 
Once you feel ready to progress from the nursery runs, Le Tour is 12km up the valley and has one of the most gentle progression slopes to try out.
Vallorcine is also bursting with cruisy, gentle blue runs which are ideal for those who want to take it easy during their first few days on the slopes. 
Skiing in Chamonix for Intermediate Skiers
For intermediate skiers with a sense of adventure, Chamonix ski resort is ideal. 
You'll find the toughest runs at Les Grand Montets and Le Brevent but if you're looking for a more leisuring descent check out Les Houches where there are pretty, tree lined runs to explore. 
Skiing in Chamonix for Advanced Skiers
Chamonix is the undisputed off-piste capital of the world, meaning advanced skiers will have the time of their lives on a Chamonix ski holiday.
The 20km Vallee Blanche is a must-do for those with the skills, it's one of the most famous off-piste routes in the world but just remember to take a guide with you. 
The transfer time from Geneva airport to Chamonix ski resort is around 1 hour 30 minutes which makes this the perfect location for shorter ski breaks or for families who want to avoid a lengthy transfer time. 
Our shared and private transfers will get you through the alpine roads safely thanks to our skilled alpine drivers.
If you select one of our shared transfer options you'll have multiple choices for where you want to be dropped off, with our drivers stopping at all the main points within the Chamonix ski resort. 
Guide to Skiing in Chamonix
Chamonix is one of the most iconic ski resorts in the French Alps and with its stunning views of Mont Blanc, variety of terrain and vibrant Apres Ski scene, it's no surprise that skiers return year after year. 
If you want to find out more about Chamonix head to our dedicated Chamonix page or if you're ready to book your transfer, contact our team today.