A Guide to Ski Slope Colours
Before you head out on an adventure, it's important to make sure you understand the different ski slope colours. The colours relate directly to ski slope levels in terms of how experienced you'll need to be to tackle them. Ski slope difficulties are determined by the gradient, terrain, width, and snow conditions. The runs are checked and maintained daily (at least), as well as being secured against avalanches.
Ski run colours are decided based on the most difficult part of the run, to ensure that skiers know the minimum level of competency required to navigate it safely. There are some slight differences between grading systems across the world, mainly in terms of the percentage gradient for each category, but most of Europe uses a similar system. In this blog article, we'll look at the different ski slope levels and their associated colour codes, so you can make sure you know what's what.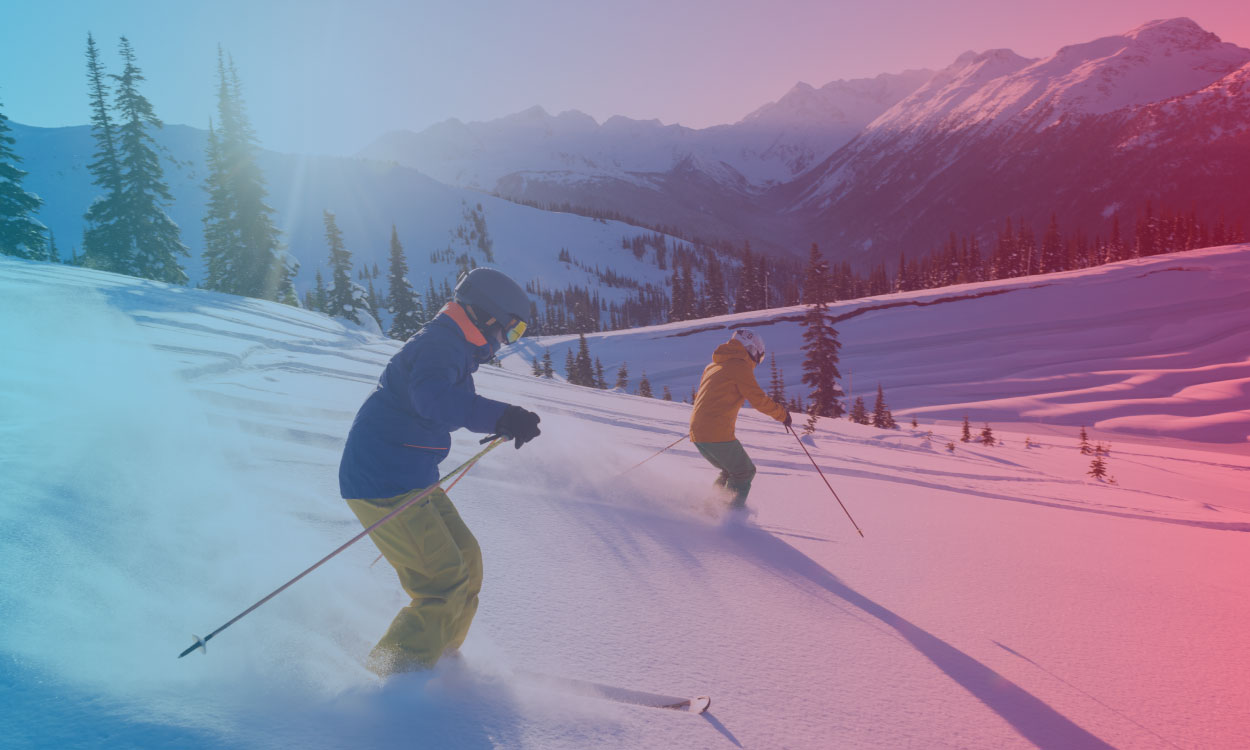 For intermediate skiers, the blue runs offer a little more of a challenge. Once you've mastered turning, and stopping, and can confidently look ahead to avoid obstacles you'll be ready for a slightly increased gradient. Blue ski runs have a slope of up to 30%, with slightly more varied terrain.
Lifts around the blue runs will be operating at higher speeds, as skiers are expected to be confident to use them without difficulty. To keep the lifts moving and to avoid tripping others, make sure you ski away promptly and only stop when you are at least 5 metres away from the lift.
Other skiers will also be travelling much faster on steeper blue runs, so it is vital that you stay aware of your surroundings. If you need to stop, try to stay away from the middle of the piste and ensure you can always be seen by others.
Lots of intermediate skiers enjoy La Plagne, as it has over 170 km of blue runs. Val d'Isère is also an excellent choice, as the popular intermediate slopes are well looked after and super smooth.
On a piste map, the intermediate slopes will be marked with a blue circle.
Red ski runs have a steeper slope of between 30 and 45%, they are suitable for confident skiers at an advanced intermediate level. These slopes will provide challenging terrain with narrow sections and tighter turns. To stay safe on a red run you should be able to hockey stop on either side and parallel turn. Linking turns quickly and controlling your speed is vital on steep gradients.
Both Tignes and Val d'Isère have some wonderful red runs to enjoy, with a variety of peaceful slopes and long runs to keep advanced intermediate skiers occupied.
On a piste map, the advanced intermediate slopes will be marked with a red circle.
Black ski runs are for experts only. These are the steepest runs with slopes of 45% and over, they will also have complex, challenging terrain and potentially off-piste sections. Unless you are an extremely experienced skier, black ski runs will be dangerous and intimidating. You should be 100% confident in your skills and equipment before considering taking on a black run. At some resorts, you will also be required to ski with a partner on black ski runs.
Features you might find on a black run include moguls, steep gradients, tight turns, and potentially cliffs or dangerous drops. Confidence in a variety of snow conditions is vital, as on a black run you could experience icy patches and powder in close proximity. Even expert skiers can end up losing control on the most advanced slopes, so do not attempt them unless you are totally sure you have the required experience.
On a piste map, the advanced intermediate slopes will be marked with a black circle or black diamond.
Ski run colours and the weather
Weather conditions can have a huge impact on ski slope difficulties, which can result in ski run colours being adjusted. Runs are assessed in 'normal' weather conditions and regularly checked to ensure the rating is accurate. Changing temperature, wind, snow conditions and ice are monitored to ensure skiers are aware of the potential dangers when they take on a run.
Snow
Ice and hard-packed snow make it more challenging to turn and control your speed.

Fresh powder is generally easier to ski and more forgiving when you fall.
Wind
Strong winds cause snow to build up in drifts, these are challenging to ski.

Wind can also cause patches of ice to form on the slopes.
Temperature
Warmer temperatures can create slush which is difficult to ski on.

Colder temperatures increase the chances of ice in hard-packed areas.
Planning your skiing holiday?
If you are planning a skiing holiday, Alpine Fleet offers shared transfers and private transfers from major airports to some of the most popular destinations in Europe. Simply contact us to book your airport transfers and we'll get you to your accommodation safely and promptly, so you can spend as much time on the slopes as possible.